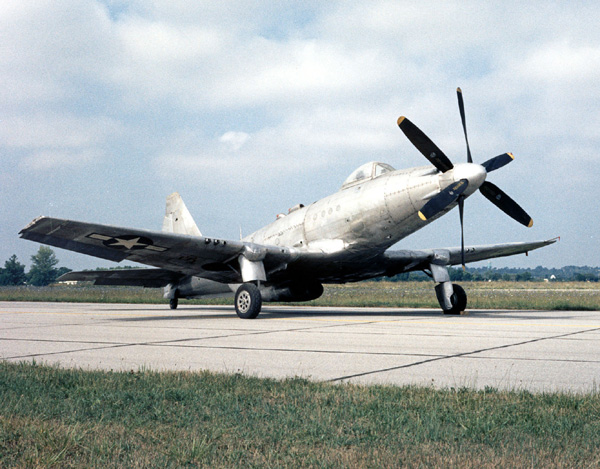 The P-75 Eagle was an airplane that only its designer could love.
During the hectic years of the beginning of World War II, there was truly a need for a massive output of armaments and material. The National Defense Act in April 1939, called for 5,500 airplanes for the Air Corps with a top limit of 6,000. In May 1940, Roosevelt called for a production for 50,000 airplanes a year—36,500 airplanes for Air Corps, 13,500 for the US Navy. Then in October 1940, the British had requested an additional 12,000 airplanes, bringing their order for US military aircraft to 26,000. Later in August 1941, Britain requested what amounted to all of the airplanes that US plants could produce.1 Before the United States entered the war, famous aircraft such as the Boeing B-17, North American P-51 Mustang, Consolidated B-24, Curtiss P-40 Warhawk and the Republic P-47 were already in production, but with these new requirements, serious problems developed.
Along with many successes, there were disappointing failures such as the Vultee Vanguard fighter, Vultee Vengeance dive-bomber, Brewster Bermuda, and the Brewster Buccaneer dive-bomber. The Bell P-39 Airacobra has been considered a failure by some, although it proved more than adequate for the Russians for low-altitude operations. The Brewster Buffalo, which was considered a useless against the Mitsubishi A6M Zero, proved to be quite resilient in Finland against lesser quality Russian aircraft. However, perhaps the ultimate boondoggle of the war was the long-range General Motors/Fisher XP-75 Eagle fighter, powered by the experimental Allison W-3420 engine that was plagued with problems.2
As was remarked about the vintage Curtis JN-4 Jenny, the P-75 could have been classified as "a group of parts flying in formation." It was made up from sub-assemblies of other airplanes that were already in production. It used the tail of the Douglas SBD Dauntless, the wings of Curtiss P-40 Warhawk and the landing gear of the Vought F4U Corsair.
This methodology was chosen to reduce production times and costs, but unfortunately this "Rube Goldberg" approach of assembling parts from several different aircraft and getting a car parts maker to build it, didn't work out so well. What may have seemed like a good idea at the time, with good intentions to save time and money, only gave more credence to Murphy's Law, "Whatever can go wrong, will go wrong." The main problem was that each of these parts was designed to function as an integral unit to a specific airframe. Combing parts of different aircraft proved to be ludicrous.3
While it may be fun to poke at GM for the failure of the P-75, they have to be commended for the monumental effort in converting their eastern automotive division to aircraft production. This involved a complete tear down of its five eastern automotive assembly lines and its parts division, and completely rebuilding these facilities practically overnight. While GM had no experience in manufacturing aircraft, surprisingly the results worked out very well for established aircraft designs such as the Grumman Wildcat and Avenger. GM's strong point was to adapt its manufacturing techniques to manufacturing airplanes.
Although GM would eventually build thousands of aircraft, many came off the assembly not suitable for combat and were relegated to the training role, such as the Consolidated B-24. To ready planes for combat, many had to go modifiction centers before being sent off to war. The problem GM had was implementing modifications on an assembly line, whereas it was routine for aircraft manufactures to implement modifications during their traditional production methods.
There are a great many differences in the manufacturing of the airplanes and automobiles. First of all, aircraft are hand built individually in far less quantities than autos. Total production aircraft in 1940 only amounted to 4,500 aircraft, while GM produced autos by the millions. The body of an auto is designed mostly for appearance and autos are built for comfort to travel at relatively low speeds. On the other hand, the fuselage of an aircraft is part of the overall structure and built for speed. Any little change on the outside of an airplane can have a dramatic effect on performance. General Motors had great success with producing thousands of reliable Allison engines for the P-38, P-39 and P-40, as well as license-built aircraft, such as the Grumman TM Wildcat and Grumman TBM Avenger, but they wanted a project of their own.
In February of 1942, the USAAF issued a request for a fighter/interceptor requiring the following:
• Maximum speed of 440 mph @ 20,000 ft.
• Climb rate of 5,600 ft./min.
• Operational ceiling of 38,000 ft.
• Maximum range of 2,500 miles.
The new requirements would provide fighter protection for bombers going to Germany and at this time the P-51 Mustang and P-47 Thunderbolt were limited to a combat radius of 750 miles.
Combat radius differs dramatically from maximum range. The maximum range is the maximum distance that an aircraft can fly at cruise speed with 30 minutes of reserve fuel, whereas combat range is the distance an aircraft can cruise to from one point, operate at War Emergency Power for at least 5-min of combat, loiter for 30-min, or continue to fly for an additional 15-min at military power, then return to base at cruise power with 30 minutes of fuel remaining. These were the requirements that the P-75 was expected to meet. However it was not to be and the aircraft never even met basic fighter requirements that were eventually surpassed by the P-51 and P-47.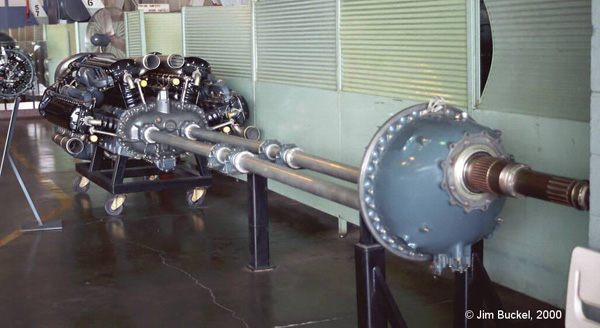 The Allison W-3420 engine was plagued with problems.
In April of 1942, the famous designer Donovan Berlin of the Curtiss P-36 and P-40 was assigned the task of meeting the requirements for the new fighter. To keep down costs and shorten development time, he decided to use existing aircraft sub-assemblies already in production. For the engine, he used the 2,600 hp 24 cylinder, Allison W-3420 which was the biggest engine that was available at the time. The W-3420 is essentially two Allison V-1710s, coupled together in a side-by-side "W" configuration. He selected the tail from the Douglas SBD Dauntless, the outer wings from the P-51 Mustang which were switched to Curtiss P-40 panels and the landing gear from the F4U Corsair. The general layout was similar to the Bell P-39 Airacobra in that the engine was behind the cockpit with a long shaft running forward driving a gearbox, except the XP-75 had two counter-rotating propellers.
On October 10, 1942, a contract for two prototypes was awarded to Fisher and the two XP-75 prototypes were assigned the serial numbers, 43-46950 and 43-46951. The first XP-75 flew on November 17, 1943 and the second XP-75 flew shortly thereafter. Four more prototypes were ordered and by the Spring of 1944 all six aircraft were operating in the test program. The anticipated production order was for 2,500 aircraft.
However, there were a multitude of problems encountered during testing which included:
• CG problems.
• Inadequate engine power.
• Poor engine cooling.
• High aileron forces.
• Poor spin characteristics.
• Overall handling was extremely poor.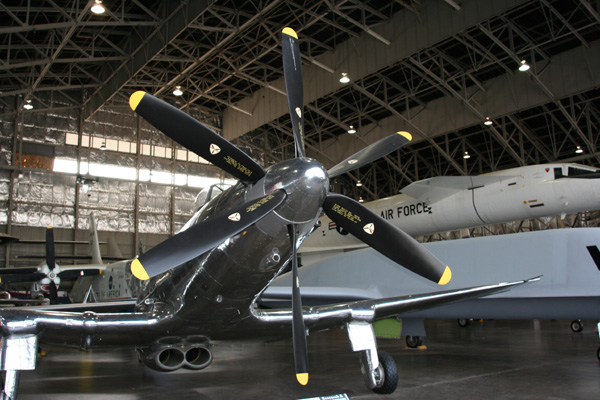 The airplane was redesigned with a new tail assemble and a bubble canopy was added. The engine was upgraded to an Allison W-3420-23 that corrected most of the engine problems. However, three airplanes crashed during the test program, but as with other aircraft at the time, this would have not been considered unusual.
The production model P-75A was finally ready for flight tests in September 1944, but by this time the P-38, P-47 and P-51 had much improved long-range capabilities. The USAAF decided to limit the number of aircraft combat types and production was cancelled on November 8, 1944. Despite all the heartache, the P-75 did fulfill one promise—it saved time and money. The total production of the P-75 Eagle was a mere six aircraft.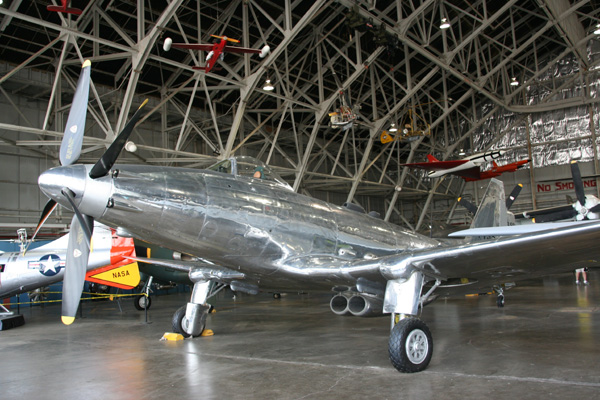 Fisher P-75 Eagle at the National Museum of the USAF in the Presidential hangar.
Specifications:
Fisher XP-75 Eagle
Dimensions:
Wing span: 49 ft 4 in (15.04 m)
Length: 40 ft 5 in (12.32 m)
Height: 15 ft 6 in (4.72 m)
Weights:
Empty: 11,495 lb (5,214 kg)
Operational Weight: 19,420 lb (8,808 kg)
Performance:
Maximum Speed: 433 mph (697 km/h) at 20,000 ft (6,100 m)
Rate of Climb: 4,200 ft/min (21.3 m/sec)
Service Ceiling: 36,400 ft (11,100 m)
Range: 2,050 mi (3,300 km)
Powerplant:
One 2,885 hp (2,150 kW) Allison W-3420-23 24-cylinder engine.
Armament:
Four fuselage 0.50 caliber machine guns and
Six wing mounted 0.50 caliber machine guns.
Two 500 lb (227 kg) bombs.